An innovative full service solution that tripled online sales, connects the franchises with the in store eco-systems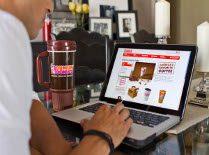 Got Donuts? Got Coffee? Need to drive your online marketing campaign, grow sales, connect with the consumer on a personal level and strategically align the business to expand your footprint and increase overall profits?
Creating an online presence for a large fast food chain while reaching out to the public with its full database that ties into every individual store's ecosystem is no small endeavor. So, when Dunkin Donuts, one of the largest retail fast food chains in the world wanted a technological update to increase online sales, Perpetuating stepped up to the challenge.
Dunkin Donuts started in the northeast near Boston where Perpetuating is headquartered. They knew they needed to rebuild their entire website platform because they were unhappy with the agility and the performance of their website. Dunkin Donuts wanted the website to be an additional source of revenue and value and envisioned possible coffee delivery in the near future. As a franchise, they understand the importance of the individual stores as brand ambassadors. Our goal was to drive marketing campaigns to continue to attract people to the physical stores, while maintaining an active e-commerce.
Under Perpetuating's guidance, Dunkin Donuts grew their online business from 9,000 dollars a day to 25,000 dollars a day in coffee sales. We built their entire backend database platform on top of the currently existing, beautiful and flawless system from 8 years ago, as well as a thriving e-commerce site. Dunkin Donuts had a clear strategic vision of what they wanted, and we continue to provide extensive user testing and design evaluation to match the standard of our client. We used .net, oracle, web services, ibm message queing, 1st data and e-commerce transaction processing.
After completion, Perpetuating now updates and maintains the Dunkin Donuts' website platform, which now runs on top of 7 different systems working in sync to support $25K / day in transactions. The new website is also integrated with the in-store ecosystems Dunkin Donuts deeply values.