A revolutionary app that is transforming the medical field for doctors by helping them manage practice management issues.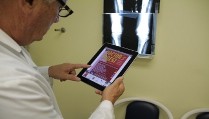 It is an unbelievably complex and daunting process to handle all of the practice-management issues that come up for physicians. This has been then driving force to diminish patient care and create professional dissatisfaction for most physicians. In some cases, it is the determining factor that discourages new students from entering medical school. Therefore, leaders and experts in various fields came forward and asked for solutions to specific complicated issues, such as medical errors, physician-patient communication, optimal reimbursement, technology and life-work balance.
Dr's Digest, founded in 2005 is an authority on practice management for doctors, nurses and clinicians. They pledged to offer a true dialogue with their readers, be responsive to their informational needs and deliver quality editorial content fast. They publish six publications per year, that offer a digest-sized reference guidebook that helps them run their practices and personal lives more efficiently.
So in 2010, PERPETUATING stepped up to help Dr's Digest answer that call. Dr's Digest worked closely with PERPETUATING designing and developing a complex solutions app that was specifically covering a wide range of issues around practice management needs in question. We wanted to enable their doctors that are reading these publications to access them through various mobile devices on multiple platforms. They need to get the information and receive tips and alerts very easily. These tips are practice management tips which are little tidbits from their actual publication as a summary of the actual advice that comes from the publication. The alerts are something that comes directly from the Institution of Safe Medical Practices. These are medical alerts that go out occasionally and are generated directly by the ISMP. So now PERPETUATING created a way for a high level alerts to be entered into the Dr's Digest content management system directly, which in return sends out push notifications to all of the users that there is an alert. For example, lets say they find that a drug previously released into the market has a bad side effect or a recall, something that all doctors should know about immediately, it will send out a push notification immediately.
Brainstorming and innovative creation collaboration sessions helped to create content like vodcast and podcast and tips and alerts, also now on the iPhone as well as the iPad. We also created a pre-publication on the iPad, which has a number of additional functions as well, including the ISMP alert. Dr's Digest now puts out a quarterly publication called, "Money Matters", which helps them to run their practice. This is also incorporated into the app.
On the iPad App, we created a job postings site together, so a doctor can go on their to see if there is any job postings. The iPad app is called Dr's Digest practice solution center, which we named because we wanted to convey that it is a lot more then just what Dr's Digest offers, it is a whole solution around practice management and doctors.